Digital Video Recorder Solutions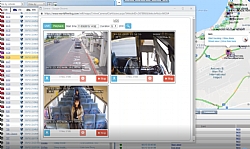 The EDT offers three DVR solutions to provide a range of solutions to meet driver and vehicle safety and security needs.
EDT Mobile DVR - ruggedized mobile DVR for use in really tough environments
EDT DVR IP67 - a water and dust proof solution
SmartSight Dash Cam - a front and rear DVR system expecially suited for passenger vehicles or where an economically-priced solution is required
EDT Mobile DVR and EDT DVR IP67 Major Features
Fit for use in commercial vehicles, as well as for stationary applications.
EDT DVR solutions include real-time monitoring of school buses, taxis, trucks, police cars, fuel tankers, and any static application where 24/7 surveillance is required.
Supported resolutions: 4 x 720P AHD or 4 x 960H / D1 / HD1 / CIF + 1 x IPC (720P / 1080P)
Supports mobile or static video recording applications
256 GB storage (2 x 128 GB SD cards)
Supports remote download via WorldFleetLog from the SD Card
A/V output supports an in-vehicle monitor
Internal G-sensor and GPS
Option for Wi-Fi (5.8 GHz)
8V-36 VDC power supply
Supports option for storage up to 2TB (2.5'' HDD/SSD)
SmartSight Dash Cam Major Features
LTE 4G/3G Support
Includes HD front and rear cameras
Wide-angle interior car camera lens
32GB SD card for loop recording
Mobile and WiFi connectivity - (acts as a WiFi hotspot)
High resistance to heat or extreme cold-suitable for vehicles
Driving analytics and reports
A cloud-based, multi-language localized Interface management platform to manage multiple vehicle groups
Event log and instant video preview of events
Multi-sensors for acceleration, accidents, geofence and more
Download the EDT DVR Solutions Brochure
EDT DVR Solutions 2019.pdf
(1.8 Mb)
SmartSight.pdf
(778.7 Kb)
Related Links

Mobile DVR demo feed in WorldFleetLog