Integrated Infotainment System
World class fleet management and Vehicle Recovery System products with an Integrated Infotainment System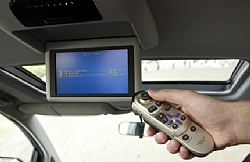 Taking EDT's end-to-end automotive solutions concept a step beyond, it is only natural to introduce integrated multimedia functionality to EDT's world class fleet management products.
EDT's multimedia solution features hi quality MP3 music streaming to the vehicle radio that is controlled through a variety of peripheral connections. Voice call management is also available for both GSM and Bluetooth connections, and allows clients to use either a cell phone or the on-board unit for voice calls.
The integrated Bluetooth and GSM operation automatically mutes the radio on incoming calls.
The car kit and hands free system includes Bluetooth or internal modem with phonebook support as well as voice recognition plus text to speech synthesizer.
A central element in the multimedia system is the integrated Personal Navigation Device (PND). In addition to the standard navigation functions, the integrated PND also serves as cell phone interface. Supported features include caller ID, SMS, phonebook, music controls, as well as fleet management application messages and alerts.
EDT's integrated infotainment solution also features high quality streaming MP3 via the stereo AUX connection, or via FM modulator. This feature supports streaming PND messages and phone calls through the vehicle speakers, depending on the user defined options.
For more about EDT's integrated infotainment system see: Platinum7