Fuel Management Solutions
Fuel management solutions with real-time reports is a must in today's competitive economy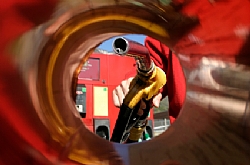 EDT's line of fuel management solutions includes FuelLog2 systems that provide advanced management tools for what is clearly one of any company's biggest operating expenses – fuel. Fleet managers constantly seek greater control over fuel supplies to improve overall fuel economy and to eliminate loss due to pilferage and theft.
FuelLog2 and EDT's other fuel management solutions provide cost-effective control over unattended fueling operations for increased security and accountability. What's more, installing FuelLog2 systems is fast, easy and affordable. In most cases, a FuelLog2 installation takes less than a day because no excavations or trenching are required. There are two installation options:
Use your own technician to self install the system.
Use a certified dealer installation or manufacturer installation.
EDT also provides employee training.
With automatic data retrieval, FuelLog2 gives fleet managers effortless data access and management. Fleet managers have a number of reporting options to choose from, and include:
Multiple download options include GPRS, GSM, WiFi or RF
Export fuel data via a locally installed fuel management program that supports creating reports based on user-defined parameters.
Access data via WorldFleetLog - EDT's Web-based application to display and manage data compiled from EDT's fleet and fuel management products.
FuelLog2 seamlessly integrates with EDT's SmartMile software to provide customer ID, multiple vehicle ID and odometer readings to track mileage and fuel consumption.
Durable construction meets petroleum products environment specifications.
For a complete list of FuelLog2 features and EDT's fuel management solutions, read more here: Fuel Management System »