Fleet Management System - RF
Offline Vehicle Log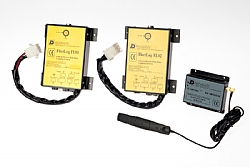 FleetLog
FleetLog is an on board, computerized fleet management system that integrates four essential fleet control functions:
Vehicle security including driver ID and vehicle immobilizer
Event analysis and control
Vehicle event location (by GPS)
Black box accident analysis
The FleetLog fleet management system features completely automatic off-line data collection when in proximity to data collection points.
With over 60,000 world-wide installations, the economic impact of FleetLog systems consistently shows savings between 12% to 30% in overall fleet operation costs.
FleetLog01 provides core fleet management functions to allow fleet managers to monitor vehicle and driver activities and service schedules.
FleetLog02 provides all the advantages of the FleetLog01 system, plus GPS functionality to record vehicle stops at clients' premises.
By promoting reduced fuel consumption and timely maintenance, the FleetLog fleet management system encourages eco-drive practices to reduce CO2 emissions and vehicle wear and tear. Altogether, FleetLog can make a significant contribution to savings in fuel and fleet maintenance costs.
Download FleetLog Brochure:

EDT - FleetLog
(864.0 Kb)