Automotive Telematics
Powerful Automotive Telematics with CAN Bus Support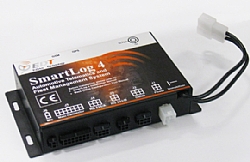 SmartLog 4 Protocol 9
The SmartLog 4 is a powerful GPS/GSM/GPRS automotive telematics with advanced, integrated management capabilities, is an ideal automotive telematics solution for vehicle and driver monitoring, security and maintenance scheduling.
The latest SmartLog 4 release includes:
Iridium Satellite Network Support
Automatic fallback to the Iridium satellite network when GSM/GPRS network is not available
User-defined message size and message polling features to reduce costs
New or Improved Features
Provides actual battery levels
Now supports 3 analog sensors for configuration of temperature, weight, pressure values and many more
Provides horizontal and vertical accuracy estimates based on the internal GPS circuitry in order to better understand vehicle location in sub-optimal circumstances
Enable/Disable Emergency Button: It is now possible for users to define emergency button availability
Added support for additional Fuel Level Sensor Types
Added dual fuel tank support
Supports idle time detection in all ignition switch positions
(accessory only, or engine on)
New Commands
Resend messages from a specific date, month, day, hour minute
Resend messages by days
Select source of fuel consumption by trip and total fuel consumption
Select source (CAN Bus or analog) of RPM and engine hours
Added Trip Fuel Consumption and Total idle fuel consumption from J1939 to the End Trip Message
SmartLog 4 + CAN Bus
The SmartLog 4 + CAN Bus features an integrated platform to support CAN Bus the J-1939 and OBD-II Protocols, although the actual information derived from each vehicle depends on how each vehicle manufacturer implements these protocols, the following list of parameters is generally supported:
Fuel level (if supported by the vehicle)

RPM

High resolution vehicle distance

Engine coolant temperature and level alert

Low fuel level

Weight alarm

Fuel consumption in km/liters

Engine oil alerts for temperature, pressure, level

Digital Trouble Codes

Engine oil alerts for temperature, pressure, level

Engine Hours

Alerts for malfunction light indications

PTO, brake, clutch indications

GI sensor indications

Vehicle battery voltage status
Additional CAN Bus Reader Support
Supports an integrated on-board CAN Bus reader as well as an external plug and play reader with support for over 350 vehicles
All EDT CAN Bus solutions support a contactless connection in order to preserve manufacturers' warranties

With advanced, integrated management capabilities, together with WorldFleetLog, SmartLog 4 Protocol 9 is an ideal automotive telematics solution for every fleet manager.

.
Download SmartLog 4 Brochure:

SmartLog 4 Brochure
(1.5 Mb)