Fleet Management Products and Services
Global Fleet Management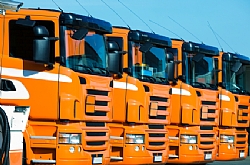 EDT's field-proven products provide fleet managers with a variety of integrated end-to-end fleet management solutions to improve efficiency, accountability, and overall company profitability.
Companies must effectively manage a wide variety assets and resources to maintain their competitive edge and profitability. Since fleet operations represent a significant capital investment and ongoing expense, fleet managers must develop strategies to address the following issues:
Improve driver efficiency and performance
Increase the number of deliveries while reducing overtime costs
Reduce accidents and vehicle wear and tear
Locate the best routes to ensure on-time deliveries
Optimize vehicle maintenance and reduce break downs
Eliminate unauthorized vehicle use and moonlighting
Record who was driving your vehicle at any time
Manage risk and potentially reduce insurance costs
Improve worker productivity by integrating headquarter-based management information into company vehicles
Collectively, these issues define the Mobile Resource Management (MRM) cycle.
Using EDT's fleet management solutions for Mobile Resource Management optimization, fleet managers succeed in reducing fleet management costs by 12%-30%.
EDT's fleet management solutions provide critical and actionable information via:
Server-based Web application for real time vehicle and asset tracking, route verification and geo-fencing from anywhere in the world
Real time alerts and comprehensive reports regarding driver performance, vehicle diagnostics, driver productivity, and much more
Aside from the obvious benefits of a Mobile Resource Management system, EDT's fleet management solutions, with real time on-board feedback, actively promote environmentally friendly driver practices for reduced vehicle wear and tear, and reduced fuel consumption!
EDT's product line includes:
As a fleet management and automotive telematics solution provider since 1988, EDT is committed to complete customer satisfaction based on courteous and timely customer service in accordance with the ISO 9001-2015 standard.